Arjan brings us a hot little mix of Annie's "Chewing Gum". Be careful, because this song can aptly be pretty sticky: stuck in your head for hours.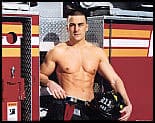 Too early to start thinking of 2006? Nah. FDNY Calendar of Heroes goes on sale today. And if you're anywhere near Times Square from 11-3 today you best check them out. (via gawker)

The latest toilet-reading rumor from the Scientology closet has the man in some risky business with fashion designer Hedi Slimane.