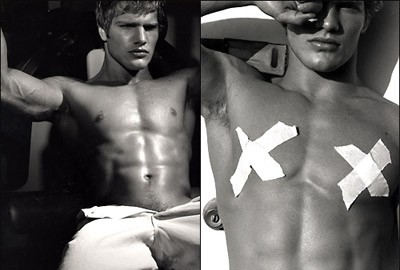 ModelLaunch is back with a nine page interview with diminutive model Joseph Sayers about how he "made it" in the modeling industry after being wooed from a small town in upstate New York. He also talks to editor Sean Bickerton about what it was like coming to New York and suddenly finding himself in an industry surrounded by gay people:
"Now, I don't want to sound homophobic, but I grew up in a small town and it was kind of strange being around homosexuals for the very first time in my life. So when I got down to New York I was intimidated at first. But when I realized they weren't just looking at me like dessert … (at this point in the interview I break out laughing) …'no really,' Joseph says very earnestly, 'that's honestly what I thought. That's what I expected right from the time I was fourteen or fifteen years old. But when I got to New York I was surprised. Then later I found out my friend Matt was gay – I didn't have the slightest clue. I never would have guessed. Actually, that turned out to be true for about 3/4 of the guys that were gay that I knew. I just didn't realize it at the time.'"
You may remember there was some increased chatter regarding some of Mr. Sayers' more revealing photo shoots a little over a year ago. I'm glad that he learned to "color outside the lines" and be comfortable in any kind of situation. That's how the world should work, after all.
Joseph Sayers: The Fighter [modellaunch]
Related
Joseph Sayers Takes Off [tr]
Joseph Sayers Uncensored (Again) [tr]
(thanks Glen)