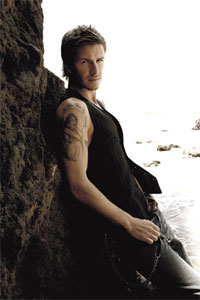 Details magazine tackles "Brand Beckham" this month in an article "detailing" his recent trip to Los Angeles which culminates in a hideously plastic meeting at CAA.
Writer Bart Blasengame slobbers and fawns over Becks almost as much as I do:
"In person, lounging in the glassed-in living room of a rental house just off the Pacific Coast Highway, Beckham is neither rugged nor particularly handsome. Just frustratingly pretty. Beautiful, even, in a way usually reserved for runway models and gay men."
The British are fashion lemmings, following Becks' every fashion move, according to Blasengame:
"The only thing more astounding than the architectural perfection of his face is his willingness to go there in the name of fashion. Slathering himself in baby oil and nail polish, twirling leopard-print bikini briefs around a finger, wearing a sarong. In public. Since kicking his way into Britain's heart in 1996, he has carried the stylistic burden of a nation on his narrow shoulders. If David Beckham shaved his head or twisted his locks into a ponytail, then, by damn, the whole of England's male population would demand the same from their perplexed barbers. That's not counting, of course, those unfortunate cornrows."
I personally think leopard bikini briefs are as much a crime as cornrows. Aside from 10 with Bo Derek, have cornrows ever received a good rap?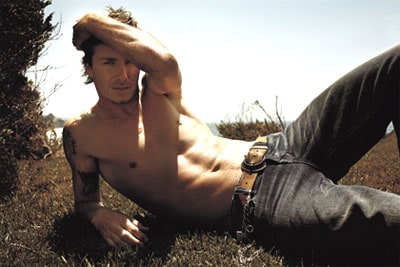 And here's this revelation:
"In 2004, Rebecca Loos, Beckham's former personal assistant, came forward with X-rated text messages; another woman disclosed code names (he was Peter Pan, she was Tinkerbell); a third suggested that Beckham's obsession with personal grooming extended to his carefully waxed scrotum."
Now after the Chicago armpit incident, will anybody question that accusation?
Finally, a scene that makes the former Hollywood lackey in me weep with nostalgia — not:
"Back in Beverly Hills, the welcome-to-L.A. toast feels like a dolled-up office party (that it's held in the lobby of CAA, which represents Beckham's as-yet-nonexistent acting career, doesn't help). The scene is quickly spiraling into a C-list vortex: Michael Keaton. Luke Perry. Lionel Ritchie. Pat O'Brien. The stench of career stagnation is so intense even Thora Birch bails early."
Sigh.
Importing Becks [details]
Related
Beckham Shaves Pits, Horrifies Stadium [tr]
Deconstructing David Beckham [tr]
Happy Father's Day Becks [tr]
David Beckham: The Player [tr]
David Beckham in the Flesh [tr]