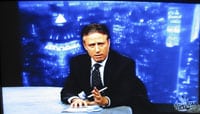 Jon Stewart opened his show last night with an acknowledgement that most people saw his interview with Rick Santorum as not up to par. We love that Stewart listens. Transcript:
"Everybody, the entire country abuzz about my interview last night with Rick Santorum. A real controversy over the relative suckiness of that interview. Some people thinking it sucked, whereas other people thinking it (in falsetto) suuuuuuucked. So tonight I can assure you, Diane Lane is going down!
But the Senator and I were talking about the gradual debasement of our culture and I saw something on TV today that supports his argument. You know the Space Shuttle launched after two years of being grounded, a triumphant moment, should have been a dignified one. CNN's Miles O'Brien chose to degrade the event before it even happened. Do we have the footage of this?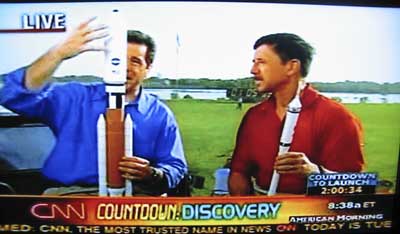 Okay there it is, now look. I'm not saying Miles O'Brien isn't enormous…ly talented. Well endowed with scientific knowledge. Rock hard reporter's credentials, but come on! That just looked like bragging to me. Especially when you compare his analysis with that of his tag team partner Scott Horowitz, who is clearly much less of a man when it comes to space travel."
We so love that the Daily Show writers read blogs!