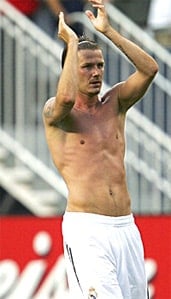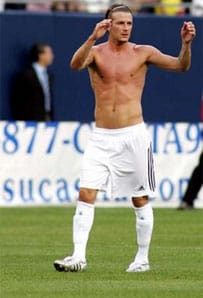 David Beckham spent the weekend in Chicago playing exhibition games at Soldier Field but the biggest exhibition was apparently that of his shaved bare armpits, which he flashed to a horrified crowd. Methinks Beckham has gone a step too far with that new diamond-encrusted razor awarded him by his sponsor Gillette, because last time I checked neither the boys nor the girls think men with shaved armpits have sex appeal.
The UK Mirror, speculating it a plot by Posh Spice to make her man less attractive to others, even consulted a specialist: "Even just trimming your armpit hair could lead to problems. When a newly formed hair comes out of the follicle, it has a soft and downy end. Cutting it will produce a rough and prickly end, which could rub against skin and cause redness and chafing. If the skin is inflamed this will not help to secrete pheromones, which are released from the armpit sweat glands. These are the scent chemicals that attract members of the opposite sex. So all these waxed and buffed macho men could find they're not attracting as many women as they used to."
It seems David Beckham has jumped the metrosexual shark.
Related
Deconstructing David Beckham [tr]