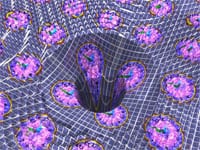 For those of you who haven't yet come to terms with your asshole's appearance (and you're willing to make a trip to L.A. to deal with it), Tristin Taormino of the Village Voice outlines the routine at Pink Cheeks, a Sherman Oaks salon that will bleach your bunghole with hydroquinone till it's the perfect shade.
"We just tried it on some buttholes and realized it worked." Somehow, I think this procedure is not for the faint of heart, but according to the specialist, one third of their butt-bleaching clients are gay men, many flying in from Houston, Dallas, and other parts of the Lone Star State. "We've been bleaching lots of Texan winkers."
Hilarious. As are the descriptions of the before and after photos. "This girl's butthole was so white in the 'after' shot, the flash bounced off it!" Still, the post-salon procedure of giving yourself the treatment every night before bed sounds like a far bigger commitment than putting Crest White Strips on your teeth.
Will we soon see a makeover show on LOGO dedicated to the hind quarters? Beauty and the bunghole? This sounds like a project for Michael Lucas to tackle, though I think he'd probably agree with the writer on one point: "The pinkest, happiest buttholes I've ever seen are those that have been stroked, licked, and fucked till they couldn't help but blush with contentment."
Britesmile for Bungholes [village voice]