With ABC's compelling LOST on summer hiatus, cable has picked up the Wednesday night TV slack with two compelling takes on the reality genre.
In tonight's installment of Morgan Spurlock's patchy, but interesting reality series 30 Days, a young, God fearing, Red state homophobe is sent to San Francisco to live with an openly gay man in the Castro for a month. It should be a fascinating journey to watch someone who blames homosexuals for America's moral decline live, work and worship amongst "them" (ie. "us").
I just love MTV's MADE! Since the average MTV viewer is probably aged around 13, I guess they would summarize the show something like…"They take, like, a total retard and, like, try to teach them a new trick and, like, the 'tard like totally fails, but by the end you, like, like them…like, sorta."
While many of the kids getting MADE are just your average teens, more than a few are particularly socially challenged.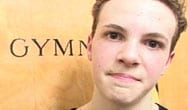 In a favorite show from last season, a perky, un-athletic, ballet dancing Momma's boy and perpetual bully target named Dov seeks to break free from his low social caste by joining the school's lauded wrestling team. He trains for a couple of months and actually competes, only to have his face smashed bloody into the mat by his opponent. But along the way, Dov displays more spunk than Liza, and reveals some future college hottie potential. The whole thing feels like a John Hughes film, cleverly capturing the heartbreak that can be high school. As summed up in the words of one of his wrestling teammates – "Before he was like a total nobody, now he's like…almost somebody." Priceless.