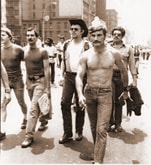 Gay Sex in the 70's, a new documentary by Joseph Lovett, will hit theaters in New York, San Francisco, and L.A. in November, be released by Wolfe Video on DVD in 2006 and will air on the Sundance Channel in 2007. The film looks at the wild sexual freedom in the gay community between the Stonewall riots and the emergence of AIDS.
The film had its premiere at the Tribeca Film Festival. From Variety:
"More traditionally, behind nearly every bush on The Rambles in Central Park, men made love without fear of police or of gay-bashing civilians while dancehalls like the Loft, the Paradise Garage and Studio 54 encouraged gays to strut their stuff. Full-service bathhouses like the legendary St. Marks Baths furnished everything from steam rooms to high-class professional entertainment by fag hag extraordinaire Bette Midler, strewing poppers like flower petals in her wake.
But the true endemic Gotham community was Fire Island, recalled here with a reverence bordering on awe.
Paradoxically, all the interviewees, including filmmaker Lovett himself, speak of this era of mad promiscuity as a time of friendship and community. When AIDS enters the picture, Lovett's expert control of tone and structure really pays off.
On camera, Lovett muses about a party he went to where all the men he had ever lusted after were gathered in the same room. He was all ready to partake of his first orgy when his lover forced him to leave. He now realizes that he and his lover are probably the only ones of those partygoers still alive."
The fact that it's showing on the Sundance Channel is indicative of the problems I think LOGO may have in attracting viewers because of its policy to veer from controversial, sexual, or steamy entertainment. I won't harsh too much on LOGO now because they seem to be in a "soft launch" pattern at the moment. It does, surprise me, however, that one of the other new "gay channels" didn't pick this one up.