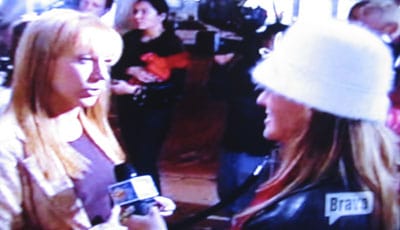 Kathy Griffin's My Life on the D List is my new favorite show. Here's a brief transcript of a moment where she arrives at a Kabbalah book party launch:
Griffin: "I'm not a Kabbalah student – I'm here pretty much because I was invited. I'll pretty much go anywhere. I do feel that my life is the anti-Nicole Kidman. My celebrity is the anti-Julia Roberts. So I often think it's funny to look at things in my life and imagine, how would this be for Nicole Kidman? Nicole Kidman would not go to the Kabbalah book release party. Nicole Kidman wouldn't go anywhere that I go."
Griffin's husband Matt: "That was totally a D list event because Kathy was the biggest star there. And it was lacking any celebrities and it was a big hubbub about nothing."
Red carpet news anchor: "How about celebrity friends of yours who are into Kabbalah – are they trying to get you into it, come to the party?"
Griffin: "First of all, I love that you think that I have a celebrity friend. I don't have any, and for obvious reasons. I can't even understand Madonna anymore. Her accent is much thicker than yours, and I think she's actually a member of the royal family at this point she's so British. She's definitely not American anymore. You know, the way Justin Timberlake is black now? That's how British Madonna is…
…I think it's really funny that Madonna thinks she figured out the world better than the rest of us. That cracks me up. You ever hear Madonna on Oprah talking about Kabbalah? She's like: (in fake accent) 'It's this religion where they prove to you that there's a cause and effect and if I'm nice to someone…they could be nice back.' And I'm like, you had to join a religion to not be an asshole? Like, that's what they teach you the golden rule in first grade."
Her comedy is balls-out honest. Griffin is not afraid to admit that she spends much of her time figuring out how to get free things, kiss up to larger celebrities, or attend events that she knows no bigger celebrity in their right mind would attend.
The Malcontent has a more thorough review up, along with a low-quality WMV clip of the entire show. If you don't have the patience for that, I'm sure that Bravo, as they do, will be repeating the show all week. Definitely worth watching.