No sooner had I finished ranting about Cargo magazine's heterosexual agenda than their September issue landed in my hands with the Lacoste-wearing tennis tease Andy Roddick on the cover.
Since Roddick is the closest thing in tennis to a gay icon at the moment, I'll momentarily take back what I said about how Cargo is Maxim-izing its pages, although his presence in the mag is nothing if not a big case of blueballs.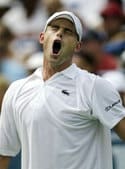 When I turned to page 142 thirsty for a big interview and some juicy insight into Roddick's behind-the-scenes game, all I got was some sleep-inducing fashion questions, supposedly asked by Roddick himself, but more obviously cooked up by the editors in their effort to serve up product. Sigh.
Cargo wants to "help him blow his winnings" but given this photo taken during his match against hottie James Blake over the weekend, Roddick can blow just fine by himself, thank you. Or he may just still be yawning over the Cargo article.
We'll leave the straight talk to mags like GQ. Their September issue features a profile on New England Patriots QB Tom Brady, who seems less likely a metrosexual than Roddick, but one I'm sure Bruce Weber had an equally good cream over. There are few revelations in the Brady interview except that he maybe almost kinda did something bad once, and that he's not all that happy with his All-American spit-shined image:
"I hate that golden-boy image!" he interjects. "I don't look at myself like that at all! For me to believe I can't do anything wrong, I think that's all bullshit. I'm 27 years old, I go do the same shit every 27-year-old guy does, I mean, I drink, I—"

"Search the Internet for porn?"

"Everything," he says. "I am no different."
Just what kind of porn Brady searches for is never specified, but former running back Frank Gifford is sure that despite Brady's inclination toward the objectifying worlds of fashion and entertainment, Brady has eyes on the gals and he won't let all that femmy fashion stuff distract him:
"There were lots of crusty old southern players, guys who'd fought in World War II, who thought that if you came from Southern California, like I did, that you had to be gay. I'd find panties hanging in my locker, that sort of thing. What made all the difference for me was getting named MVP of the league in 1956, when we won the championship. Then I got respect. Tom's gone through much the same thing, I think. The modeling and the ads give them ammunition to poke fun at him, but they love and respect him for the way he leads that team."
Yeah, those Southern Californians. You gotta wonder. What I'm wondering is if we'll get more revealing photos of Brady on the inside, considering Bruce Weber's got his hands on the lens. Seems to me that Brady wouldn't be such an easy sell on the skin shots, but you never know with Bruce. He can be awfully persuasive.