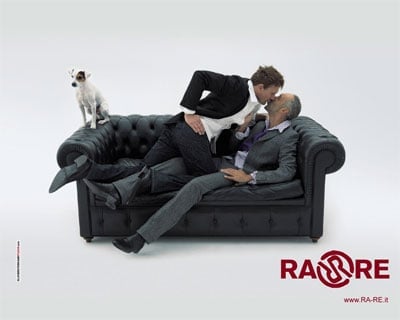 A series of billboards for Ra-Re clothing shot by veteran photographer Oliviero Toscani is causing controversy on the streets of Rome. The most controversial depicts two fully clothed men having a kiss on a sofa.
A spokesman for the parents association MOIGE said: 'These posters are vulgar and a bad example for our children. It's not a matter of sexual orientation. They would be crass even if they featured a man and a woman.'
Toscani replied unapologetically: 'There's a big discussion going on about homosexuality in Italy so I thought it was the right time to do something like this. I don't think it's vulgar. It's just two men having fun together. These parents who are complaining – their kids already know about this stuff. The Vatican is not too happy with me either but the church is an anachronism in the world today. I don't think it has any influence on young people.'
With all luck, Pope Benedict XVI can see the advert from his bedroom window.
Italy snaps over gay poster excess [observer]
Italian Debate Over Couples Heats Up [ap]