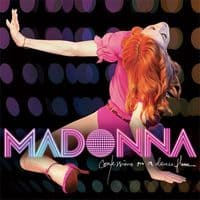 Friend of Towleroad and dance music maven Matt Kalkhoff attended the Q&A session with Stuart Price (aka Jacques Lu Cont), the producer/collaborator of Madonna's new album, Confessions on a Dancefloor, and has some great details on the forthcoming album.
From Matt's mouth to your ears:

The entire album was recorded in the home studio of his London flat, including the vocals. He said his studio is as small as the stage he was sitting on — and a lot warmer.

He apparently has a female neighbor who just cries throughout the day, and that you can actually hear her faintly in the background on some parts of the album.

Madonna knew from the beginning that she wanted to do a high-energy dance album. She said, "It's gotta start at 120bpm and only go up."

The album's 12 songs are continuously mixed, by Stuart, like a DJ set.

A full track listing is now available, as well as the cover art, at Madonna.com. But he mentioned the last song, "Like It Or Not," and said it was the perfect way to end the album – it's a song that basically says, "This is who I am, this is what I do. Take it or leave it."

He chose the Jacques Lu Cont moniker for DJ and production work because it sounds like cunt, and he just wanted to hear someone on BBC get all tripped up while saying it, which apparently happens frequently.

Even after winning a Grammy earlier this year for his remix of No Doubt's "It's My Life," working on two tours with Madonna (as Musical Director of Reinvention and keyboardist for both it and Drowned World), he still lives in the same flat in London.

He says Confessions is "where pop meets dance" and blurs the line between the two. But it is also very soulful as opposed to techno or minimalist.

Madonna's publicist, Liz Rosenberg, was also in the audience. Even though she helped bring Stuart to the Summit, she said she had a few questions of her own. She started out by saying, "I thought I knew everything about Madonna, but…" She and Stuart basically talked about how Madonna has a DJ's ear and "she knew what she wanted to dance to," so it really was the perfect record for her to make.
Thanks for the missive, Matt. You can read more of Matt's writing at MattUnleashed.