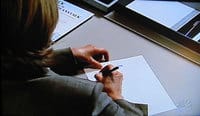 Jeff, the gay graphic designer from New York City, was sent packing last night on the first episode of The Apprentice: Martha Stewart proving that gays don't have any more pull with Martha than anyone else.
It's odd that Jeff was let go, considering the task at hand was to create a children's book, something I might have assumed he'd be good at since his show bio read: "Jeff frequently performs at The Moth, a non-profit storytelling organization in New York City, and is the winner of the 2003 GrandSLAM Championship for best spoken story." Of course, Jeff did not put himself in charge of writing or reading the story, but did seem to excel at creating other kinds of drama. Unfortunately, in Martha's world, fusspots just don't fit in.
Other thoughts on the show: The Eurythmics' Sweet Dreams feels out of place as the opening theme song, inappropriately edgy. The team name Primarius just sounds idiotic every time it's uttered. Matchstick team member Shawn (the Alexis Stewart clone) seems to be getting a lot of face time early on, positioning her for future greatness? Martha's assistant Charles needs to dump the goofy cigar. The letter at the end is a touch of pure brilliance, immediately distinguishing this show from the Donald's. I can see future good-bye letters fetching a hefty price on eBay.