Bidding war for Anderson Cooper memoir takes bounty over $1 million.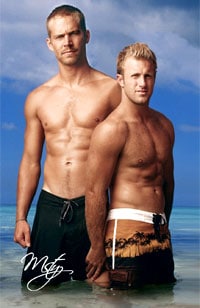 Jessica Alba says her Into the Blue co-stars Paul Walker and Scott Caan were "very competitive about everything" during filming, developing a fraternal bond that came across in some of the scenes: "There was actually this one sequence that, I hope it makes it to the DVD, but it didn't make it to the movie. Obviously, it's so homoerotic. It was like Scott and Paul doing this swim, and then they kind of like did it on top of each other. And they're underwater and they have this really pretty music and stuff. It was very funny. So I had to tease them about that."

Real World Key West tanning salon to be located at the Pineapple Gallery on Duval Street.

"Fight the real enemy," she famously proclaimed on Saturday Night Live, tearing apart a photo of Pope John Paul II. Now Sinead O'Connor has spoken out against anti-gay religious leaders: "There are people who say they represent Christ but actually they preach against love, which is blasphemous as far as I'm concerned. The teaching against homosexuality is blasphemy. God created gay people, so who is anyone else to say you should not be gay?"

If you've ever been out in West Hollywood, you've seen the women selling roses. If you've spent any length of time, you know she's the kingpin. Rrrrrosas???? (via perez hilton)