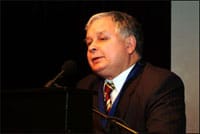 He cancelled an Equality March last June in Warsaw that was held anyway, against the government's wishes. Now, he is the president of Poland. Lech Kaczynski received 55 percent of the vote to achieve victory. As president he controls the nation's military but has limited influence in other areas.
A coalition of LGBT groups released a statement condeming the increase in homophobia in Poland since the cancellation of the Equality March. "People who hold high political positions in the Polish government cannot pretend that there is no problem with hatred towards homosexuals in Poland," the statement read.
In the run-up to the election a group called the Gay Power Brigade took responsibility for 13 fake bombs that were discovered around the city, briefly paralyzing it.
Pictured above is a hate group protesting the Equality March last June. Their sign reads, "Love is Heterosexual."