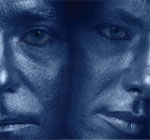 Arjan interviews Manhattan Clique, the duo who produced Erasure singer Andy Bell's first solo album Electric Blue which includes a duet with Scissor Sister Jake Shears.
They tell him: "We knew we'd get the inevitable Erasure comparisons, so we really tried to write tracks with Andy in styles that he might not have explored before, as well as pay homage to our own inspirations from over the years…it was the first proper opportunity for Andy to spread his wings without Vince for an album project, which was a big change for him as we work in a completely different way."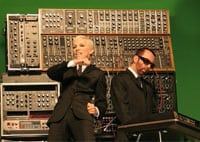 He's also got some news on the Eurythmics' first single in years, "I've Got a Life," which will be in stores on Halloween in preparation for a greatest hits album in November. Annie Lennox lives in Rhinebeck, New York, I believe, but we'll still count her as being from across the pond.
And if you haven't heard, Kate Bush is back with her first album in 12 years. She's now 47 years old and a mother and chooses to ruminate on Elvis, Joan of Arc, and her seven-year-old son on the new double-disc set, according to the Guardian.
They say: "First impressions of Aerial are as good as one hoped. It is in fact vintage Bush: a melodic, organic sprawl of wind, sea, seasons, time passing, dreams, secrecy and revelation, all mixed up with a sound that seems to segue smoothly on from The Red Shoes and The Sensual World."
Bush doesn't give interviews. "I am just a quiet reclusive person who has managed to hang around for a while," Bush said recently.
What is it with all the British recluses?
Speaking of, Morrissey has a new album coming out, titled Ringleader Of The Tormentors, that he calls "the most beautiful—perhaps the most gentle, so far" of all his albums. It's being produced by T-Rex producer Tony Visconti. That L.A. sunshine must be getting to him.

Another recluse from across the sea was recently tormented by an intruder. Yes.
Enya – remember her? Enya escaped an intruder by running into the panic room of her castle. How Jodie Foster of her!
The intruder tied up a maid during the two hour incident. I guess the maid wasn't as quick on her feet as Enya.
I'm glad that Enya's okay but I think the story would have been much more exciting if she had driven off the intruder by playing "Orinoco Flow" at ear-splitting decibels.