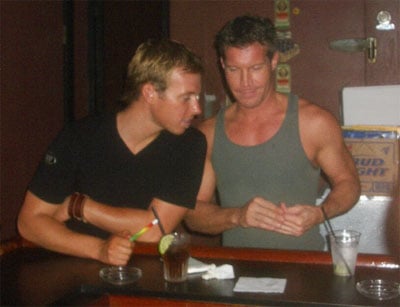 A Towleroad operative down in Key West has sent this exclusive photo* of next season's Real World Key West cast member Tyler exchanging a note with a bartender at the Bourbon Street Bar in Key West. It looks like it may be the bartender who appears on the Bourbon Complex's website.
Our operative says he saw the cast out dancing at a club called Aqua. They were accompanied by a uniformed cop "keeping the peace" in the club. The MTV cast has been active about town and that there is a second gay cast member among them. They've also been hosting some late night parties back at the house. The cast's tanning salon (Mystic Tan) is open at the Pineapple Gallery where there is usually a man stationed outside with a clipboard (to handle releases).
The show also has an ad up on a local bulletin board seeking an airbrush artist to assist with Fantasy Fest week activities ("lots of nudity with people getting their breasts and schlongs painted up so they can act like complete idiots"). No word on whether or not they'll be making visits to any gay guesthouses.
Towleroad appreciates the tips. Special thanks to our Key West correspondent.
*UPDATE: The photo of Tyler was shot by Neil Chamberlain who runs the Key West website Pistol & Enema.