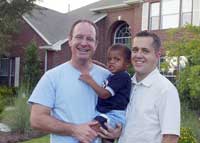 Last time we heard about the results of the controversial, never-aired ABC reality show Welcome to the Neighborhood, things looked a bit uncertain for the gay family that won the show.
I'm happy to share this article (via reality blurred), which tells the story of Steve and John Wright and their son Eli, and how attitudes have changed on the Austin cul-de-sac where they've made their home.
"You couldn't write a better ending to this story," says John Wright. His partner, Steve, agrees: "I was shocked somebody could start where Jim did and wind up where he did. It affirms your faith in human nature."
Jim Stewart, the most virulently homophobic neighbor and the official "governor" of the cul-de-sac, the "redneck", has completely come around and now embraces his new neighbors, as well as his gay son, with whom he had a distant and strained relationship.
According to reports, the tension between Jim Stewart and the Wrights was obvious during filming.
From the Statesman:
'I just don't get the gay thing," Jim Stewart said, shaking his head during a poker game in The Show That Never Aired.

"Well, I don't get the redneck thing," Steve Wright countered.

The two men "get" each other now.

What happened? The families got to know each other during filming. They talked about their beliefs and values, issues that stood between them. It was therapy by way of reality TV.

The turning point came when the show was down to the last three families. The Stewarts were having dinner with the Wrights, drinking wine and feeling comfortable.

"What was it like growing up gay in a straight world?" Jim asked John. Jim was shocked when John said he had been chased, caught, spit on and beaten.

"I said to myself right then, 'That's not right,' " Jim recalls, his eyes filling with tears.

A couple of weeks after the show wrapped, Jim called his son Jason and said he wanted to talk with him.

"I told him, 'Dad was wrong. I'm sorry,' " Jim says, choking back tears. "I might have gone forever like I was without the Wrights."
In fact, Jim has come so far that he is speaking at a vigil protesting the proposed Texas constitutional amendment banning gay marriage on the steps of the state capitol.
Says Jim: "I was turned off. They had that public display of affection, which they have every right to do, but it really turned me off. I was fearful and ignorant, which is where all prejudice comes from."
This article is a must-read!
Circle C's Reality TV Therapy [austin american statesman]
Welcome to the Neighborhood… [reality blurred]
Related
A Look Inside ABC's Welcome to the Neighborhood [tr]