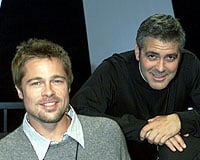 One of the last remaining beach bars on the West Coast and the centerpiece of gay nightlife in Laguna Beach has been bought by George Clooney, Brad Pitt, and an airplane finance tycoon, who plan to turn it into a ritzy bed and breakfast.
The Boom Boom Room and adjoining Coast Inn will be developed into what is reportedly the first in a chain of B&Bs that will have the celebrities' names attached. The financier, Steven F. Udvar-Hazy, is 125th on Forbes' list of richest Americans.
This appears to deal a death blow to a huge chunk of gay tourism to the area as many who visit Laguna are weekenders from L.A. proper who spend the day at the beach and then hit the (one) club at night. Without the nightlife, I suspect a good portion of them will be looking elsewhere.
UPDATE: Clooney and Pitt say this news is simply NOT TRUE.
Pitt and Clooney: From Vegas to Gay Guests [defamer]
Clooney, Pitt to Buy Boom Boom Room [ocbj]
Related
The Friendship That Never Went Away [tr]