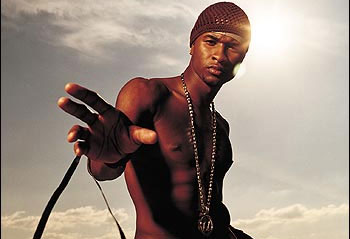 Gay sex is okay, but only if it's about objectifying women, according to recent comments made by Usher.
From GrooveVolt: "In the latest issue of Complex magazine the singer was asked if there were ever any homosexual activity at his famous orgy parties and the superstar responded, 'There was women on women but never man on man. Shit, nowhere near that! No one I ever roll with or ever would have roll with would get down like that.'

So this must mean that none of Usher's hairstylists, wardrobe stylists, trainers, producers, executives, friends, family members or anyone else (that comes within 10 feet of him for that matter) are gay."
Maybe Kanye West and Usher should sit down for a little chat. What are these guys so scared of?
Via BlogActive.
UPDATE: I just found out some interesting news. GrooveRevolt lifted this item from our good friend Rod's site Rod 2.0 from a post he had done recently, nearly verbatim. It's a great site, one in my blogroll that I visit frequently and highly recommend, so I apologize to Rod for crediting GrooveRevolt. Please give Rod 2.0 a visit now and often.