Colin Farrell sex tape site went down due to heavy server load.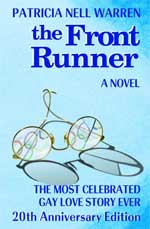 Hollywood is dusting off gay-themed film projects that have been languishing in development for years because of the success of Brokeback Mountain, reports an article in the L.A. Times. Among those are Craig Zadan and Neil Meron's The Mayor of Castro Street (which now has Bryan Singer attached to direct), based on Randy Shilts' book about Harvey Milk, the assassinated openly gay San Francisco supervisor. Also back to life is The Dreyfus Affair about two gay baseball players. And finally, Patricia Nell Warren's classic novel The Front Runner
. Says Warren: "There are still a lot of people who would like to see this movie made. We get e-mails and letters all the time. One of the issues is economics. There are a lot of people in the industry … who think of gay films as low budget. The Front Runner is not a low-budget film. Its backdrop is the Olympic Games. You can't do the Olympic Games for $2 million." Warren has told Cyd Zeigler at Outsports she has already begun to entertain offers.

LOGO founder Matt Farber launches music label aimed at LGBT audiences. Farber: "While there's no such thing as 'gay music,' there are many gay and lesbian artists who want their identity embraced. To not only embrace them as artists but as individuals. It really is just a home for the artists."