Elton John Oscar party (his 14th) to be most lavish yet…

News Corp launches cellphone entertainment production studio. "So far, Mobizzo has acquired some of its 2,000 pieces of content from the unlikeliest places: a Hollywood tattoo designer, a Chinese art collective and a Los Angeles street artist."

Bush approval rating drops to 34%.

A brief introduction to The Real World: Key West's openly gay contestant Tyler, his bad back, and his reasons for doing the show: "The series was an opportunity for me to get to know myself, and to better understand the relationships that I've had in the past. It's definitely not about Tyler going out to gay clubs and trying to get laid." If you'll remember, we offered a bit of an introduction last year. The new season premieres tonight at 10 pm.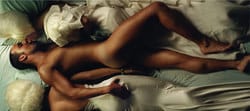 Tom Ford to open "an old-fashioned men's haberdashery and tailor" on Madison and 70th in New York that will sell made-to-order clothing for the man "who doesn't want to look like a banker, but does not want either to look trendy, silly or too much of a fashion victim." As for his career in film? "I've structured some time to make movies. It may never happen, or it may happen in three years. I don't have anything new to say in that world yet."

Anderson Cooper gets a pearl necklace.