Old Apprentice contestants don't die, they just sparkle away.
(via a socialite's life)

Students rally around Melbourne girl forced to remove T-shirt by school officials. "Nobody Knows I'm a Lesbian" deemed inappropriate for class pictures.

Dutch study: Penis size is linked to self esteem in gay men.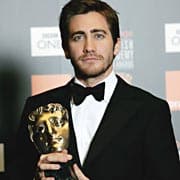 Brokeback Mountain gets four BAFTA awards — Best Picture, Best Director, Best Supporting Actor (Gyllenhaal) and Best Adapted Screenplay.

After 72 days in its initial release, Brokeback released for the deaf.

Premiership football team to tackle homophobia in the stands. Tottenham hotspur says anti-gay chants will not be tolerated. Sports minister: "My message to the fans is: be supportive, not abusive."

A Missouri judge has overturned a state agency's decision to deny a foster parent application to a same-sex couple: "We're really relieved that the court has recognized that banning lesbian and gay people from being foster parents is bad for Missouri's foster children. We were saddened when we found out that our loving each other was the only reason the state had for denying us the opportunity to give a child a home."