Firefighters join 40,000 in Melbourne's largest gay rights march ever.

Barney Frank asks Condoleezza Rice why the U.S. sided with other repressive governements to exclude gay rights groups from a U.S. panel. "I had hopes for better from you," he reportedly said in the letter. "To refuse them status, what else is it except an act of bigotry?"

It's not much of a surprise that there are no protections for gays in the new Iraqi constitution: "Muslims believe that homosexual behaviour is an offence against Islam and anyone who behaves this way should be sentenced to death without compassion."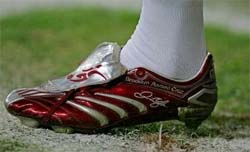 David Beckham has thrown away his trademark Adidas Predator boots after he was told by an animal rights group that they are made from the skin of baby kangaroos. They look a lot like ruby slippers, don't they? How's he ever going to get home now?

Turkey is still a backwards nation in terms of gay rights, even as it bids for inclusion in the European Union: "The efforts by rights groups to change public opinion are hampered by officials in the government who consider gay groups a threat to traditional values. During the regular process of registering advocacy groups with the Interior Ministry, traditional prejudices against homosexuality place the groups seeking legal parity at the mercy of interpretations of Turkish Civil Code statutes that prohibit the establishment of any organization that works against the rule of law or public morality."

A frightening article about our digital destiny: "The nation's largest telephone and cable companies are crafting an alarming set of strategies that would transform the free, open and nondiscriminatory Internet of today to a privately run and branded service that would charge a fee for virtually everything we do online."