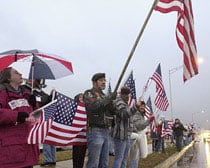 Bikers vs. Bigots: Patriot Guard riders formed to counter ugly protests of soldiers by Fred Phelps and Westboro Baptist Church. Phelps and his gang say that God is punishing America for its tolerance of homosexuality by killing soldiers.

NYT: Group using bait-and-switch technique in internet chat rooms to stem growth of HIV/Crystal Meth epidemic in black and Latino communities. Researcher: "Ten years ago, if I had told people in Iowa that they would be coping with a meth crisis in Des Moines, they would have laughed at me. Now they're drowning in meth. The Hudson River is not going to stop it from coming to New York."

Iowa task force: Stop bullying of gay and lesbian students.

A second openly gay Episcopal Bishop? It could happen…

Jake Gyllenhaal is the godfather of Heath Ledger's daughter, Matilda.
Jake: "Heath and I are best friends now, making the film was very intense for us. I'm actually godfather to Heath's daughter Matilda which is an amazing honor."