Sweating with the Secretary: Condi Rice to reveal workout routine on early morning news. Newsanchor: "She is tough, I have to tell you."

A bit of free music from OM Records is always welcome. Arjan offers up a few deep house tracks from Groovejunkie, Greenskeepers, and Kaskade.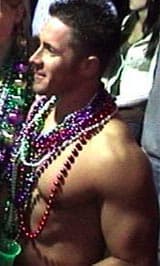 Missing Mardi Gras? Live vicariously through the various webcams set up along Bourbon Street.

A history of gay cowboys, from 1920 to today.

HIV/AIDS rates surge in Tijuana, Mexico.

Gay porn star Tom Katt reborn as straight Christian, angry at homophobes and headed for the pulpit.

Dreamgirls preview presented to press at the Orpheum theater. Dark Horizons: " I began asking people in the hall about what they thought of it, especially those who were big fans of the original show. All responses ranged from impressed to uber-excited. Everything seems poised on this film to be as big a critical, commercial, and hopefully as award-winning as 2002's "Chicago" – if not more so."

No biggie. Apple introduces iPod Hi-Fi.