Remember that incredible final episode? The fifth and final season of Six Feet Under is now available
at Amazon, to be released on March 28th.

"Gay panic" defense lightens Alabama killer's conviction: "Carlisle was so 'traumatized' by the encounter with Speigner that he killed the man, stole the professor's credit card to buy beer, cigarettes and gasoline later in the day while joyriding with friends. Even worse, he rented the car to another friend and was finally arrested while smoking dope inside the car, which he had upfitted with a new tag and freshly tinted windows."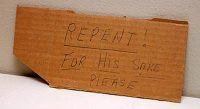 Christian invasion: Gay couple finds message left behind by crusading electrician.

Oklahoma library segregates children's books dealing with homosexuality. They've now been moved to the "parenting" section. And what else is in the "parenting" section? "The other topics in the collection are child abuse, child abuse prevention, child sexual abuse, child sexual abuse prevention, domestic/family violence, substance abuse, drug abuse, medication abuse, alcoholism, premarital sex and extramarital sex."

New report criticizes BBC for not challenging homophobia.