Delegate Mark L. Cole (R-Fredericksburg) of Virginia wants to strip the state budget of outgoing Governor Mark Warner's language protecting gay state workers from discrimination. Why? "Sexual orientation is a broad term. There are eight different sexual orientations, including pedophilia and bestiality. I think we'd be opening up Pandora's box and allowing judges to interpret what that means."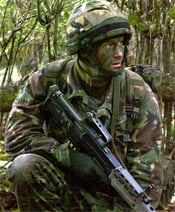 Prince Harry attacked by a barrage of raw potatoes.

Nashville Christian Academy denies entrance to a child because he has gay parents. This is what the gay couple heard from the headmaster months after attending an open house at which they had a "good feeling" about the school: "According to Barnby (the father), Kellum (the headmaster) told him that his home life is an abomination against God and that if Barnby's son was to attend DCA, he would be taught that he comes from a sinful family and subject to the ultimate punishment from God. Kellum went on to say that he had family members who used to be gay but have repented their sinful ways and given their life to God, Barnby said. He then informed Barnby that the child's application would not be accepted." So much for the "good feeling."

Tony Curtis doesn't like Brokeback Mountain and speaks for other dead people, saying they wouldn't approve either: "This picture is not as important as we make it. It's nothing unique. The only thing unique about it is they put it on the screen. And they make 'em (male gay lovers) cowboys. Howard Hughes and John Wayne wouldn't like it."

All the Superbowl XL commercials you may or may not care to see again. Check out the Whopperettes. So camp.

Tabloid claims that Princess Diana death crash in Paris was caused by a blinding laser aimed at the driver by someone on a motorcycle: "New witnesses have told British detectives, leading a fresh enquiry into the fatal August 1997 accident, they saw a motorcyclist point a laser into the eyes of chauffeur Henri Paul, causing the Mercedes to crash inside the Pont De L'Alma tunnel in Paris, France."