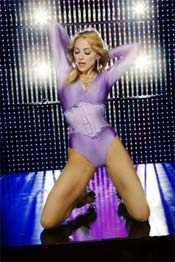 Here you go. The song everybody wanted Madonna to perform last night at the Grammy's.

Howard Stern talks to John Paulus, the former green beret-turned-hustler who claims he slept with Clay Aiken.

That's hot. Another edition of Hot Olympians is back. First up is Chad Hedrick. Apparently he's the "Paris Hilton of speed skating." I'm not sure if that means he has a sex tape hidden somewhere or he skates with a chihuahua, but I'll stay tuned.

Continuing Olympic coverage, the PEN15 club gives the Simon Cowell treatment to figure skater Johnny Weir, whom they say has "the fashion sense of a gay dolphin caught in a fishing net while reenacting a scene from Showgirls." More on Johnny Weir at Deadspin…

Philip Seymour Hoffman gives Graydon Carter's Truman Capote impersonation an "F": "While he stood there, I did my own impersonation, including the high-pitched, fey, lisping voice and the waving of a crooked finger while I adjusted my eyeglasses. He gave me a pissed-off look and just walked away."