Cheney shooting becomes gay cowboy song by Jill Sobule, sung by friend Robin Eaton. Listen.

Karl Rove made Cheney talk; VP in "state of meltdown."

Drew Livingstone, the Cambridge student stabbed in the brutal anti-gay attack last week, is in stable condition and is recovering at his parents' home in Jersey.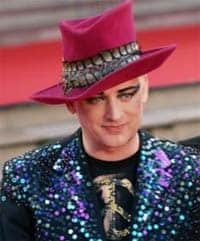 Boy George arrived at the Brit awards looking more cleaned up than he has in ages. He awarded Kanye West with an International Male Solo Artist award and praised his recent statements about homophobia, saying, "Kanye is the first hip-hop star to say something positive about gays. Big up the batty man!"
Boy George was not amused however when before handing Kanye the award, host Chris Evans (the Brit not the hunk) brought up his recent drug arrest in front of the entire audience. Did you really call the NYPD about a burglary when you had 10 bags of drugs under the bed?" asked Evans. Before quickly changing the subject, George replied, "I think that might have been you, Chris."

Shirts from Brokeback Mountain will become the highest grossing item (bids now over $50,000) to be auctioned since Variety Children's Charity began fund-raising with donated filom memorabilia. The movie itself recently passed the $100 million mark in gross international box office receipts. Who says gay cowboys don't sell?

Idaho gay marriage ban to go before popular vote; State Senate ratifies constitutional amendment by a vote of 26-9. Even though Idaho already has a law banning gay marriage, bill supporters said they want to clarify that law. Said Brian Chase of the Lambda Legal Defense Fund: "The language is deliberately fuzzy. They want to try to take away any legal recognition for same-sex unions."

The Malcontent plays pop-up-video with cocky, flamboyant Johnny Weir.