The NYT unravels the story behind the fictitious JT Leroy, aka Savannah Knoop: "Mr. Knoop said the ruse began in 1996, when Ms. Albert sought to get in touch with Dennis Cooper, a noted gay writer of edgy fiction whose work she admired. Concerned that Mr. Cooper might not be interested in communicating with a woman in her 30's, Ms. Albert had the idea to approach him as a troubled teenage boy nicknamed Terminator, with the biography of a street hustler. Mr. Cooper said his memory of that early call was consistent with Mr. Knoop's account. He said that Terminator's life story seemed almost taken from the pages of one of his own novels. 'He was very much like one of my characters, so I was interested,' Mr. Cooper said…"

Prince William gets a haircut for the Army. Shorter, I say.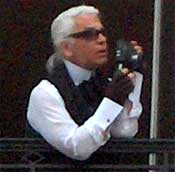 Gatecrasher Widdicombe: Karl Lagerfeld not too adept at these newfangled digital cameras. What will they think of next?

UK Researchers discover that gays love their tech toys: "Figures from Outright Research show that four in 10 gay people invest heavily in new technology, compared with just 25% of straight respondents."

Researchers: HIV hitting African American community hard.

Bravo launches gay broadband site…so you can watch Boy Meets Boy again and again to your heart's content.

Rumor has it Alan Cumming went wild in NY's Meatpacking District over the weekend. (via pink)