Bill O'Reilly chatted with Tab Hunter and Harry Hamlin the other night about playing gay in Hollywood. Pam has a snippet. Hamlin: "It's so weird that when you play a role that has a different sexual orientation, they seem to cross over, and they don't get it. You could play an ax murderer or you could play a rapist or whatever and get away with that, but for some reason when you cross the sexual boundary, it makes a difference."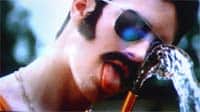 Is Elijah Wood channeling Freddie Mercury?

Utah Senator Chris Buttars' bigoted bill aimed at gay-straight alliances passes is approved by the Utah Senate. Openly gay Senator Scott McCoy: "The most common epithets thrown about in our high schools are words like faggot and dyke. What these clubs exist to do is not to recruit people to change they way they live their lives. These clubs are simply places they can come together and say, 'We don't think people should be treated like that.'"

The poster for Brokeback Mountain in Turkey allegedly translates as Faggot Cowboys. UPDATE: I've been told by a few people that the translation may actually be Queer Cowboys. Which really isn't news at all then, except for the fact that they're shepherds.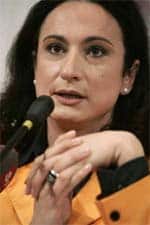 Vladimir Luxuria is Italy's first drag queen to run for a parliament seat. Many news outlets describe her as transgender, which is obviously not the same as a drag queen. She has her own explanation: "Luxuria, 40, was born as Vladimiro Guadagno and describes herself as neither woman nor man, just someone in search of a husband. She moved to Rome to pursue a career as a night-club singer and actress and organized Italy's first gay pride march in 1994." Luxuria will be campaigning for gay marriage rights as well as the legalization of some drugs and prostitution.

Two gay priests are up for Bishop of the Episcopal Diocese in California. Both candidates have longtime same-sex partners.

Star Jones and Al Reynolds close to splitting? No way!

In Brazil for Carnaval? Made in Brazil has a guide to some of the parties and the scoop on a new product to keep your kisses germ-free.