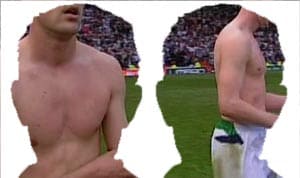 Can you hear me now?
The British tabloid News of the World is claiming that two well-known football athletes have been caught on film in a kinky threesome with a male figure in the music industry and a cell phone.
"In the astonishing pictures—seen by our showbiz columnist Rav Singh, Player A—a household name who has a reputation as a rebel on and off the pitch—shoves his mobile down his boxers.

He performs a sex act with it which is too obscene to be described here. Then Player B calls his number to make the phone vibrate. Player A is also pictured on the bed while Player B—a multi-million pound goal-scoring mid-fielder—kneels to perform oral sex on him.

Meanwhile the music man can also be seen leaning over the pair, kissing and caressing the footballers, who play for different sides.

The source who handed us the graphic images said: 'Fans would be stunned if they knew who the players were.'"
Brit tab The Sun says player agents weren't interested in commenting on the rumors: "One said "leave me alone", before slamming down the phone. Another said: "What are you implying?"
The music man remains unidentified also, but we hope (for fantasy purposes alone) that Clay Aiken doesn't find himself in any more trouble.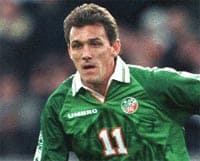 Ex-footballer-turned-pundit Tony Cascarino commented on the allegations in The Times yesterday as part of a broader essay on how team horseplay keeps homosexuality in the closet among footballers:
"A gay player himself would probably feel equally ill-at-ease. Dressing-rooms are like perverted nudist camps. Immature, wild places, little self-contained states where the normal rules of common decency and acceptable behaviour do not apply. Sexual activity and bodily functions are props players use for pranks and banter. Boredom, testosterone, adrenalin; whatever the cause, weird things happen when players are out of the public eye. Disgusting stuff that boarding school boys couldn't even dream of. I'm told by reliable sources that one former top-flight player began to perform oral sex on a less than enthusiastic team-mate at the back of the team coach for a bet."
Vibrating cell phones are apparently not out of the question either.
Gay as you Go [news of the world]
Who Bumit? [the sun]
Boys being boys in the dressing-room helps to keep homosexuality in football's closet [times online]