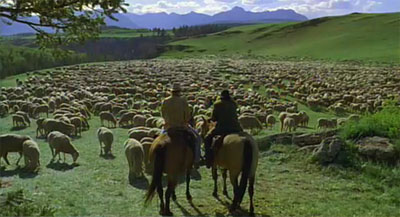 Here's something I hadn't read before. You wouldn't necessarily think of Brokeback Mountain as an effects-heavy film. And its budget of $13 million certainly wouldn't have allowed for a lot of CGI. But you might be surprised to learn that of the 75 visual effects created for the film, 15 of them were for the sheep. Three-dimensional sheep replications, apparently require a tremendous amount of effort according to the UW Madison Daily Cardinal, but Ang Lee used them to help shape the character of the mountain itself.
"Lee's control fix induced many challenges, including attempts to stage over 2,500 sheep in some scenes. The actual set of the film only used 700 sheep, partly because of Canada's comedic concern for the spreading of American diseases to their sheep. Lee's compulsive perfectionism even pressured Morin (the visual effects supervisor) to visit the Calgary set often so he could blend 3-D created shots seamlessly with cinematographer Rodrigo Prieto's sensationally captured natural scenery."
Hats off to Morin on that one. The landscapes were pure fairy tale (so to speak), and I was especially dazzled by the amorphous, woolly herd that drifted over the side of the mountain, even if much of that wool was pure pixels.
I also found this detail fairly humorous:
"CGI allowed Lee to better direct elements like nature and animals, which fits his taste perfectly, as Lee claims he despises working with animals and says he would rather not work with sheep again."
They're so demanding. Each wants its own trailer and unlimited Pellegrino.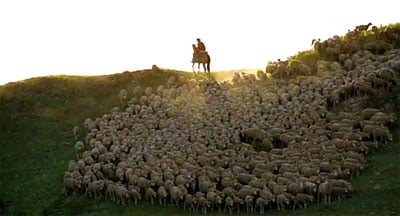 Related
Behind Brokeback: An Interview with Producer James Schamus [tr]