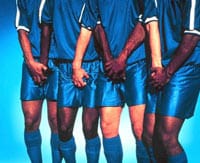 Brit tabloid News of the World says that the three-way cellphone orgy undertaken by a group of Premiership football players is real, and that there is a "gang" of players involved in these activities regularly.
NOTW describes a second threesome by one of the footballers in the first report, and two new players:
"I went back to a player's house with two other stars after we'd been drinking one night," said our source. "The player whose house it was went to his bedroom and came back with five grand in cash, threw it on the table and said: 'Who will suck my ****?'"

The star—who performed oral sex on Player B mentioned last week—was glad to oblige.
NOTW's "source" says this sort of thing happens all the time. And, oh, it's by no means gay.
"They see this as just messing around. They are rich and untouchable and this sort of weird behaviour is just another way of getting their kicks. Of course people outside of their world are going to think what the hell is going on? But this happens all the time in football. I've been at parties where it happens. There is also a game where one person has to put their **** in another's mouth but without touching them. But they're not gay. It's normal for some of them to do this."
Previously
British Tabs Claim Gay Three-way by Footballers [tr]