The Faye Dunaway phone message that must be heard…

Fireworks to go on as planned in Provincetown. The town selectmen have reversed an earlier decision to ban the display because of violence that erupted during last year's event.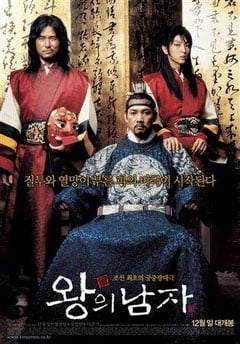 More on The King and the Clown, which has become the highest-grossing film in South Korea's history and is being compared to Brokeback for its tender gay scenes:
"The gay scenes are subtle but not sugarcoated. When the movie begins, an unscrupulous troupe leader is pimping Gong-gil to lecherous nobles for food. In the palace, King Yon-san leaves his concubine because he is so fixated on the feminine Gong-gil. As with "Brokeback," filmmakers focused on the human nature of the relationships , which many in the conservative country found liberating. "While I was sitting in the theater, I thought, Oh, my god, director Lee, thank you so much," says gay actor Hong Suk-chun, who was virtually blackballed from television when he was outed five years ago."

Bruce Vilanch lost 25 pounds on Celebrity Fit Club but isn't keen on his reality TV experience: "The experience altogether–it was a nightmare. The losing weight, the diet and the working out–it was great. It was reality television that sucked. Reality television is where they say to you, 'That was great. Now can you do it again, but angrier?' I said, 'No, that's called acting. I get paid more for that.'"

The "People Who Need People" diet. Barbra Streisand doing another farewell tour in order to lose weight. "The big worry is, 'Can Barbra lose the extra 50 pounds she's put on?' She feels that confirming the dates is the only thing that will make her lose the weight." The singer's last "farewell" tour was six years ago.

Former Hartwick College Lacrosse team member arrested over hazing incident. Team reportedly forced rookie players to strip naked and drink a keg of beer, threatening them with sodomy if they didn't.