Gay partners to be given immigration rights in Australia in an effort to attract more doctors to regional areas in that country.

Episcopal Bishop Gene Robinson is back at work after spending a month in rehab for his "increasing dependence" on alcohol. Spokesman: "He is going to kind of ease back into things. We are going to keep a low profile."

Cinematic send-up of Les Liaisons Dangereuses features all-gay Bush White House and Jeff Gannon character in the Valmont role.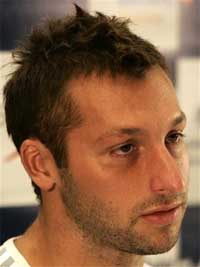 Ian Thorpe looked positively beat up at the press conference yesterday where he announced he's pulling out of the Commonwealth Games because of a mystery illness related to bronchitis and a viral infection. Get well, Ian.

NYU's first gay frat inducts four new pledges.

Oversight group finds Los Angeles deputies acted appropriately in strip search of 22 gay inmates. "The inmates alleged the strip search was overly lengthy and held in an area exposing them to public viewing. Deputies also taunted the inmates and used derogatory language, the inmates said…Though the surveillance video shows the deputies laughing, Sheriff Lee Baca said the men were laughing at a G-string on the floor and not the inmates."

The 82nd Airborne paratroopers charged with appearing on gay porn sites are to be arraigned today at Fort Bragg.