Male kissing billboard censored in Sao Paulo.

Gay activists plaster downtown Boise, Idaho with "Heterosexuals Only" stickers to mirror the "Whites Only" and "Coloreds Only" signs of pre-Civil Rights America.
Despite the fact that it's clearly vandalism, no arrests have been made.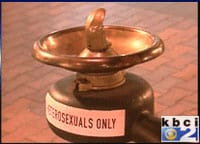 Activist: "You could make the case we were littering, or doing something more aggressive. Realistically, we have to be worried because there is some risk. I think we all have come together and decided the risk is worth taking a stand. I hope people will realize this…is a model of resistance that falls into a historical basis and they won't decide to be extremely punitive." (via omg)

Sarah Jessica Parker seems like a good mother. She let her three-year-old kid watch selected scenes from Brokeback because he liked the sheep in the pictures. What happened later? "We put it on and selected about twenty minutes for him to watch. When it was over he went over to his nanny and gave her a big hug. I asked why and he said, so innocently and sweetly, 'Because, that is what the two cowboys were always doing in the movie. They loved each other.'"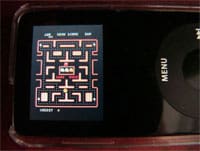 Pac Man and Ms. Pac Man on an iPod?

Tom Cruise should take a few lessons from Keanu Reeves, whose measured response to the long-ago rumors that he'd "married" David Geffen eventually faded away. Said Keanu: "In that case, it comes down to making a judgment about being gay or not. I try not to live my life by what other people say . . . People were gossiping about what the king and queen were doing way back when. It's just human nature. We like talking about other people."

Jerry Falwell to Soulforce Equality Riders: Stay away!