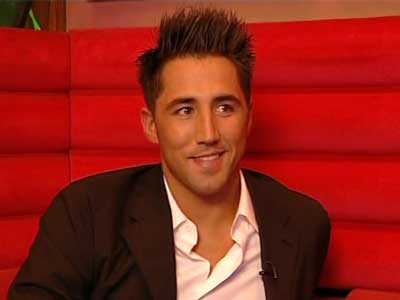 Gavin Henson sat down on the new Friday Night with Jonathan Ross on the BBC and attempted to take more ground from Beckham in the athlebrity grooming competition. Aside from fueling rumors of a pending engagement to Charlotte Church, he joked off his beauty rituals:
"It takes two hours to get ready – hot bath, shave my legs and face, moisturise, put fake tan on and do my hair – which takes a bit of time. I need my fellow players to say I'm looking good, I need it for my confidence – it gives you a boost. I don't want Charlotte to do my legs, she can concentrate on her own. Mine are smoother than hers."
And apparently good grooming is helpful for mid-air tackles, as this recent shot of Henson taking down France's centre Cedric Heymans demonstrates.