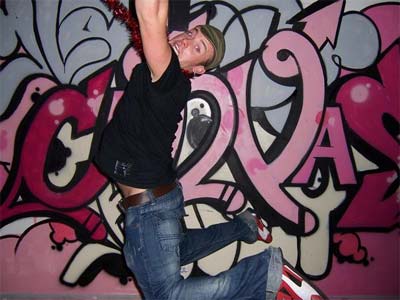 The 17th season of The Real World premiered last night, and while the show itself is par for the course, the gay contestant Tyler has already proven himself to have a quick tongue and a biting sense of humor. We've already shown you a few glimpses of that insanity.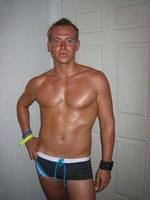 While folks have been buzzing today about the MySpace profiles of many of the Key West housemates (sans Tyler), we were able to dig up his Friendster profile in which he shows a definite consistency of personality. The swimsuit pose here is described by the housemate as "as gay as it gets."
And being Tyler's Friend(ster) apparently has its own special dangers:
I've created a list of ailments that friends of mine have recently suffered from. Perhaps this illustrates what being my friend will ultimately mean for you!

1: Back Spasms
2: Dead Grandma
3: Chlamydia
4: Vaginal Atrophy
4 1/2: Breast reduction surgery
5: Bi-Polar Disorder
6: Anorexia
7: Yellow Fever
(Well, #7 may be a stretch)

When do you wanna hang out?!
All that said, I think we'd take the risk of hanging out with Tyler because there's little doubt, even if taken ill, that we'd be entertained.
Tyler [Friendster]
Previously
Snapped: Real World Key West Gay Cast Member [tr]
The Real World Key West's Tyler Belts it Out [tr]
Meet The Real World Key West's Tyler [tr]