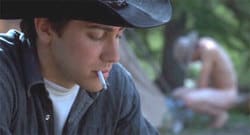 Why did Brokeback lose the Best Picture Oscar? Theories abound, and judging by the 282 comments (and counting) on my post of the other night, there is endless speculation, though we may never know what caused the most talked-about, critically-acclaimed movie of the year to lose.
My theory is that it was probably a combination of Crash's massive promotional campaign, an Academy that never actually saw Brokeback, probably some sizable patches of homophobia in the voting pool, and the Academy's desire to distinguish themselves from all the other awards shows by going against the grain and not honoring Brokeback. I actually liked Crash although I certainly didn't see it as a Best Picture.
I think that in the long run Brokeback will have a far greater long term impact on the culture than Crash ever will, and that's really what matters. That the film actually exists is the real prize.
Here are some reactions from around the web, and in most, homophobia rears its ugly head:

John Morgan Wilson in The Advocate: "To my mind, there's no question that Brokeback Mountain is an important landmark in gay cultural history, portraying as it does romantic love between two men so sensitively and unabashedly. Yet its release and much of the publicity surrounding it serve as a reminder that while many heterosexuals may embrace the quality of the filmmaking and the story's inherent emotional pull, there remains widespread repugnance toward homosexuality that's rooted deeply in the hearts and minds of straight Americans, including many professed liberals and hip Hollywood types."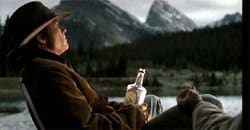 Michael Jensen at AfterElton: "The question remaining then is why did they Academy pass over Brokeback for Crash? Given the facts, there seems to be only one answer: good old-fashioned homophobia, or at least Hollywood 's fear of being perceived by Middle America as too tolerant of gay people, which is another kind of homophobia. Or perhaps it was some combination of the two things. But nothing else seems to fit the facts."

Nathaniel R. at The Film Experience: "But this is the first time ever in which I've experienced people enjoying the suffering of others within the context of the Oscar races. I never got any 'you lose!' taunts when Moulin Rouge! or Sideways lost. I am suddenly reminded of childhood's "smear the queer" games and high school bullying. Kick people while they're down. Nobody ever felt the need to attack me for loving films about French courtesans, penniless writers, or wine lovers. So why the gloating at the sorry fates of gay cowboys? I think it's a valid question. But one that the gloaters would be hard pressed to answer without looking deeper inside themselves."

Gene Stone at the HuffPost: "Giving Brokeback an award is not the kind of message Hollywood wants to send to middle America. Hollywood does not heart homosexuals. The only people in the country who really truly seem to believe that Hollywood is pushing a gay agenda message the throats of Americans are the ultra far-right wing, the Michael Medveds, Ann Coulters, and Gary Baumans."

And a counter-argument from Roger Ebert: "It is noticeable how many writers on "Hollywood's homophobia" were able to sidestep "Capote," which was a hard subject to miss, being right there on the same list of best picture nominees. Were supporters of "Brokeback" homophobic in championing the cowboys over what Oscarcast host Jon Stewart called the "effete New York intellectual"?"

MSNBC: How Did Brokeback Mountain lose? A summation of various theories.

The Envelope blames it on actors: "A big ensemble production, "Crash" is an actor's film, which probably best explains why it upset "Brokeback Mountain" to win the best picture Oscar. Much of the morning-after punditry and blog logic has centered on whether members of the Academy of Motion Picture Arts and Sciences had trouble giving "Brokeback Mountain" a best picture nod because of its gay love theme. Another theory: Like a cinematic John Edwards, "Brokeback" peaked too early and its Oscar buzz dissipated. In fact, the key to the success of "Crash" was that the film itself — and the carefully orchestrated promotional campaign undertaken by its distributor, Lionsgate — appealed to the academy's largest voting bloc: actors. With 22% of the voting members, the acting contingent is nearly three times as big as the next-largest group, producers."