REPORT: Rosie O'Donnell to be named new co-host on The View…

Anderson Cooper to join 60 Minutes as a contributor.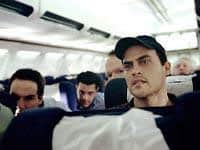 Actor Cheyenne Jackson on his role as Mark Bingham in United 93: "I slept probably two hours a night while I was filming it. I couldn't stop thinking about Mark and these people. It broke my heart every day. We would do these long, incredibly exhausting takes, covered in fake blood and some real blood, our voices were gone from screaming, so exhausted emotionally. But then at the end of the day we could walk off the plane, wash off our makeup, get some coffee and try to let it all go, and these people [the real passengers] couldn't. That is what will stay with me forever. That's why this movie was made. I'm not the same, I don't think I'll ever be the same."

Capone at Ain't It Cool News: "I will simply say that United 93 is one of the finest films I have ever seen about a single day in history, a moment in time that changed the modern world, and no amount of praise for it is too high. By simply allowed the events to unfold, Greengrass has not only makes what I believe is a wholly accurate account of that day and event in history, but also he shows us that the passengers on that flight were not heroes before they stepped onto that fated flight, but collectively they knew that dying as helpless, cowardly pawns was not an option…"

Tom Cruise: "Meaningless sex outside of a relationship is really horrible and pathetic and lonely." Lead quote from this week's popbitch newsletter.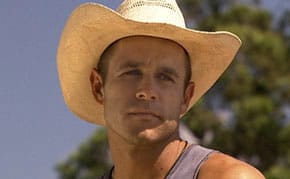 Heath Ledger's gay cowboy role model Adam Sutton got the documentary treatment on Australian Story this week: "After the rodeo had finished, you know, there's always cowgirls hanging around. And everyone's having a few drinks and everyone's got their girl, and 'Where's yours, Adam?' you know, and you'd have to go and pick up for the night. A lot of times what I would do is go and get drunk, and have an excuse, go curl up in your swag and go pass out for the night. And then if anyone was sort of chasing you that night, you always had the cover of 'Oh, I was pretty drunk and had to go to bed early,' you know? I was sexually attracted to guys. I was always looking at them, you know. And I tried to get that out of my head. All the time." (Transcript)

AfterElton presents a complete guide to what's gay in summer movies.

REPORT: Schools rife with anti-gay bullying.

Rainbow Cruise Lines: sail the seven seas with a Jackass.