Binghamton University in upstate New York will hold its first gay prom tonight. A prom at a University? "Intended to celebrate diversity, the gay prom will be a re-creation of a generic high school prom, dancing and dressing up included, where all sexual orientations are welcome." Students at Binghamton hope word will spread to local high school seniors in the area that they too are welcome.
Will & Grace cast begins its good-bye hugs.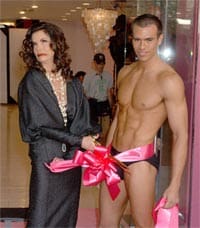 Calling all drama queens: Janice Dickinson showed off the cougar (and the clown) in her at the opening of her new modeling agency.
The barbs fly. Page Six: "At the Megu Midtown opening in Trump World Tower on Wednesday night, the ongoing feud between Wendy Williams and Tyson Beckford heated up when they bumped into each other. Williams said to Beckford, 'I know how you roll, Tyson' – implying he was gay. Tyson replied, 'Why don't you go shave your beard?'"
The openly gay Paris Mayor Bertrand Delanoe is visiting San Francisco. Delanoe and SF Mayor Gavin Newsom have a bit in common: "Delanoë, a member of the left-leaning Socialist party, has been vocal about urging predominately Catholic France to pass a law allowing same-sex couples to marry, and last year he spoke out angrily against Paris' state-owned commuter train and bus system when officials refused to display posters of same-sex couples kissing. Although the topic of same-sex marriage is not on the official agenda during his visit to San Francisco, where two years ago 3,955 same-sex couples married in City Hall, 'I'm sure it will come up,' said Newsom spokesman Peter Ragone."