Picasso's portrait of his "private muse" Dora Maar au Chat sold for $95 million at Sotheby's in New York, making it the second-highest price ever paid for a painting at auction. Picasso also holds the record for the highest price paid, for his work Garcon á la Pipe which went for $104 million back in May 2004.

The dynamic duo: Beckham meets Batman.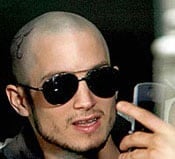 The case of the hairless hobbit.

The number of threatened species has reached 16,119: "The ranks of those facing extinction are joined by familiar species like the polar bear, hippopotamus and desert gazelles; together with ocean sharks, freshwater fish and Mediterranean flowers. Positive action has helped the white-tailed eagle and offers a glimmer of hope to Indian vultures." Read it and weep.

Giant elephant thunders through London after spaceship lands at Pall Mall.

Tom Cruise does New York.

Laura Bush sets all-time flip-flop record: "Yesterday in an interview with CNN's John King, First Lady Laura Bush said 'I don't think there's anything wrong with singing [the national anthem] in Spanish.' King then reminded the First Lady that her husband said the national anthem should only be sung in English. She quickly reversed her position, telling King 'I think it should be sung in English, of course.' Just 25 seconds had elapsed since her first answer."

Openly gay Metropolitan Police Deputy Assistant Commissioner (and uniformed hottie) Brian Paddick may face off against gay-friendly London Mayor Ken Livingstone in the 2008 election. Livingstone has said he wants to be mayor for the London Olympics which would mean winning two more elections. Paddick became the public face of Britain's terror investigations following the London bombings in July 2005.