Canadian census form asks same-sex couples "to check the 'Other' category at the bottom of the list of relationships, rather than checking the top box marked 'Husband or wife.'" Census officials say they didn't have time to change the forms since the Civil Marriage enactment last July.

The Italian stallion: Apparently all that publicity she got from her horse riding accident really went to Madonna's head.

The Mayor of Jerusalem, Uri Lupolianski, has been accused of inciting the violence that led to a stabbing at last year's Jerusalem Pride parade. The victim was at a city meeting recently where the Mayor was asked to provide the capital needed for this year's event and the stabbing victim stood up to face him. Victim David Russo to Lupolianski: "You are afraid of me."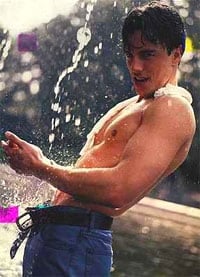 Probably old news to those of you across the pond, but tonight's Dr Who on the Sci-Fi channel introduces a character played by openly gay actor John Barrowman. Barrowman's character Captain Jack is bisexual and will get his own spin-off series soon.

Putting a well-publicized feud behind them, George Michael and his partner Kenny Goss are holding a baby shower for former Spice Girl Geri Halliwell this Sunday: "He's going to fill their home with bright, fresh flowers and balloons. He wants everything to be perfect – like a real, traditional American Park Avenue baby shower. Geri's mum Anna Maria will be there, as will her closest friends. Kenny's also invited all her former bandmates – Emma Bunton and Mel C will be there, but Victoria Beckham had plans she couldn't change in Madrid so she's sent her a beautifully-wrapped present instead."

Colin Farrell out, Heath Ledger in as Bob Dylan.

Male ice skating pair sues Berkeley rink because they were told to stop holding hands: "We were publicly humiliated by having this happen to us and we feel absolutely clear that Monte has a problem with gay skaters. If this could happen in Berkeley, what's going to happen in (a less liberal place). There is homophobia in this sport and if it's coming out in a place like Berkeley, young kids who are in skating are going to feel they can't be out (as gay people)."

Gay Games director fired ten weeks before curtain goes up.