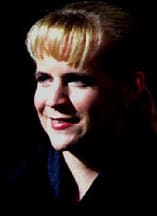 That's apparently how Mary Cheney feels about Kerry and Edwards for bringing up the fact that she's a lesbian during the last election's televised debates:
From The Vancouver Sun:
"'John Kerry didn't 'out me', nor did he offend or attack me by calling me a lesbian. It wasn't a secret that I was gay, and I certainly couldn't be offended by the truth,' she writes. 'What was offensive was that he was obviously trying to use me and my sexual orientation for his own political gain.' Sitting in the studio audience when Edwards mentioned her sexual orientation, Cheney said she looked at the vice-presidential candidate and mouthed the words 'Go Fuck Yourself', a phrase her father had earlier employed against Democratic Senator Patrick Leahy."
Some choice words from John Aravosis at AmericaBlog:
Of course, the reason Kerry and Edwards mentioned Mary's gayness is because George Bush decided to use gays as a, if not "the," political issue of the 2004 elections. How did Mary react to Bush using her sexual orientation for his own political gain?

In her interview with Diane Sawyer, Cheney said of Bush: 'I think he's a very good man. On these issues, he hasn't caught up.'

Now you have a much larger window into Mary's mind, and closet. In her own personal Stockholm Syndrome, the gay-bashers who started the fight are good people who just haven't 'caught up' yet. The gay-defenders fighting back are 'sons of bitches,' 'slime,' and need to 'go fuck' themselves.
And yes, we all know that Kerry, Edwards, and most of the Dems, also have a lot of work to do in their support of gay rights.
UPDATE:
"Seems like a suspicious lecture from a political operative who flacked for the most anti-gay administration in history and allowed Karl Rove to divide America for political gain. She'd be more credible if she pushed dad's administration to support hate crimes legislation and equal rights for gay Americans."
Cheney's daughter provokes mixed reaction on gay issues [vancouver sun]
Previously
Cheney: Mary's Not Your Tool, She's Mine [tr]