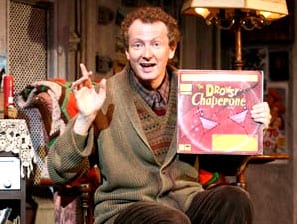 Film Experience takes a look at this year's Tony Award nominations, which were announced this morning and take place on June 11th.
Among the nominations for best musical is The Drowsy Chaperone, a choice I wholeheartedly support. I saw Chaperone a few weeks ago with few expectations and was quietly blown away by Bob Martin's performance as a reclusive musical theater fan whose vivid imagination allows an old Broadway musical to revive itself (literally) in his apartment. I'm not sure where this farcical circus of a show would be without Martin as its ringleader.
Of note also is the uber-gay Threepenny Opera revival with Alan Cumming, Cyndi Lauper, and Nellie McKay. Here's a show I'd see (though I haven't yet) despite mixed reviews just for the presence of these three alone. Elton John's Lestat and the skin-tease Tarzan were snubbed, as their reviews might have foreseen.
Please feel free to post your own picks and pans in the comments…