Eight same-sex couples have filed a legal brief with the Connecticut Supreme Court saying that civil unions, legalized last spring, do not suffice — they want marriage:
"Given the legislature's enactment of the civil union law after this case was filed, and its acknowledgement of both the common humanity of gay people and their rights to equal treatment in their family lives, is it constitutional for the legislature to deny marriage while it also creates, only for gay people, a separate legal regime, with a different name, and deems them eligible for all state-based rights available to married spouses?"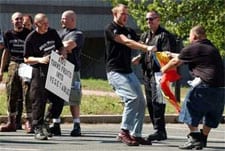 Connecticut's civil union law went into effect last October, prompting protests from neo-Nazis and right wing religious groups.
Attorney Bennett Klein, who is representing the eight couples who range in age from their 30's to their 60's, argued that there has been a "harsh, systematic discrimination" of gay people over the past century, and civil unions are just the latest example of that because they create a separate class of recognition:
"Marriage is not simply a collection of legal rights. It is something that has a unique meaning in our society. The unique social meaning of marriage gives it a very profound personal value for couples that civil unions can never provide…Rather than completely embrace that lesbian and gay citizens are part of a community of equals, [civil unions mark] those families as different from all others. And [the civil union decision] politically compromised on the principles it came so close to embracing fully for reasons that are not even valid – personal beliefs, fear of constituent reaction and the bare desire to separate."
He also made clear that religious beliefs should remain wholly separate from a state-recognized marriage: "Marriage is a government-created institution. It's a state institution that is wholly separate from the rights of religious denominations to choose whom they will marry."
The Supreme Court will most likely not argue the case until next spring.
Gay Couples Demand Marriage [tr]
You may have missed…
Connecticut Legalizes Civil Unions [tr]
Maps and Legends [tr]