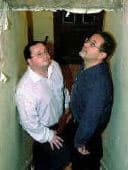 A gay couple in Manchester, England who made a complaint about the work that had been done on their not inexpensive £33,000 loft conversion by a British company called Luxus Lofts received a hateful email in return:
"Dear Mr Gays, I hope you are very unhappy with your loft as I cannot stand benders and neither can anyone who works for us."
Police are reportedly investigating the email, which a receptionist at the firm says could have come from someone outside the company with access to the firm's account.
The story is reminiscent of the recent incident in Texas in which a landscaping firm told a gay couple they wouldn't work for homosexuals. The publicity generated from the Texas landscaper's email hitting the mainstream news resulted in $40,000 in new business for the bigots.
Perhaps Luxus Lofts is wise to the value of even the most negative publicity. In their email to the Manchester couple they urged them to contact the ITV show Builders from Hell, saying "Please get us on TV asap."