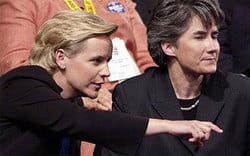 Vice President Dick Cheney's lesbian daughter Mary is pregnant, according to a report in the Washington Post:
"Mary Cheney, 37, and her partner of 15 years, Heather Poe, 45, are 'ecstatic' about the baby, due in late spring, The Washington Post reported in Wednesday's editions, quoting an unnamed source close to the couple.

There was no formal announcement of either daughter's pregnancy from the vice president's office, but the Post quoted spokeswoman Lea Anne McBride as saying Tuesday night that 'the vice president and Mrs. Cheney are looking forward with eager anticipation to the arrival of their sixth grandchild.'"
So who's the father? "The Post quoted the source close to the family as saying the circumstances of Mary Cheney's pregnancy will remain private."
Of course it will.
And as AmericaBlog notes, Cheney and Poe live in Virginia, which pretty much offers them no legal rights because of the hateful laws it has passed in the last two years: "Those laws may vitiate any legal agreement between the two, period, about anything. The law ensures that Mary's partner has no legal rights whatsoever in their child, or in what happens to Mary (or vice versa), such as if one partner has to go the hospital, the other can't visit. The law may even nullify any wills that Mary and Heather write regarding each other, and it may make it impossible for gay people to go to court to resolve any difference about anything – the courts can't recognize gay unions, so they can't make any decisions that would imply recognition (custody, hospital visitation, wills, etc.) It's beyond ironic that Virginia's new law, one of the most hateful, bigoted laws on the books, is now targeting the vice president's own daughter and soon-to-be new grandchild."
Indeed.
You may have missed…
Mary Cheney: John Kerry a "Son of a Bitch", Edwards "A Total Slime" [tr]